BLK Super Speciality Hospital, Delhi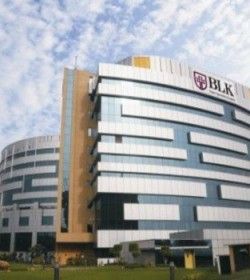 Details :
BLK Super Speciality Hospital was founded in 1959 by BL Kapur.
The super speciality medical center is accredited by JCI & NABH.
It comprises of 17 advanced modular operating theaters and 650 patient rooms.
BLK Hospital is the first healthcare center in Delhi to install pneumatic chute system, which is used for enhancing healthcare.
The medical center is associated with some of the best medical faculty in India, who provide treatment for 40 plus specialities.
The medical facility is particularly known for its cancer, BMT, heart, sports medicine, orthopedics and kidney & liver transplant surgery department.
BLK Hospital recently launched Radixact 9, at its premises.

Specilizations :
Cardiology
Heart Surgery
Coronary Artery Bypass Graft (CABG)
Heart Valve Replacement Surgery
Cosmetic & Plastic Surgery
Dental
Kidney
Kidney Transplant
Bone Marrow Transplant
Liver transplant surgery

Technology
Cath Lab
CT Scan
Cyber Knife
Endoscopy Suites
High - end Colour Doppler Ultrasound Systems
MRI
X - Ray

Address : Pusa Road, Rajendra Place ,Delhi-NCR, India 110005

Doctors : 70

Mobile No : +91-7838929895